Raceways
Easy installation & Easy maintenance
Cable Management Systems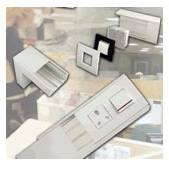 Features

CLIC'Line Cable Management Systems

Schneider believes

Architects, Interior designers, specifiers and contractors demand modern modular cable management solutions which combine functionality with style, at a highly competitive cost.

We are totally committed to producing integrated cable management systems and components which set new standards in performance & aesthetic appeal.

As an independent product category, we are dedicated to developing and producing the best cable management solutions on the market – and nothing else.

The power of process

Voice, data and power distribution networks are now primary consideration in every new building or refurbishment project.

More than ever before, Interior designers need cable management systems which not only match present cabling requirements, but allow for the rapid pace of future change.

The power of thought

CLIC'Line cable management systems are the result of years of continuous development by people who understand the requirement of designers, installers and end-users.

The power of quality

As one would expect, we are quality driven in every procedure and process.

Most importantly of all, we constantly strive to exceed expectations of quality in everything we do and produce.

The Aluminium Cable Management system come in two cross sections of 101x72 and 101x51 mm, available in exterior finishes of Uncoated, Anodized.

CLIC'Line uPVC trunking - Easy installation & Easy maintenance

Like exterior finishes, CLIC'Line offers a choice in raw material too. CLIC'Line is offered in uPVC as well. It comprises of the simple compartment readily segregated with clip-in dividers available with double locking lid for enhanced safety.

CLIC'Line uPVC accessories includes the complete range of moulded fitting thus allowing adaptation to the varying site designs.

With this, also incorporated in the range are the fully segregated one & two gang boxes that take in Opale wiring accessories

Benefits

Shifting your gadgets. Shift your power point too!

Cable Management System allows you the freedom to avail power points anywhere along its length, with no tools, no technical support and in no time at all.

The Aluminium Cable Management system is the combination of strength and durability with a stylish modern design to suit the Interior of the building. They are non corrosive and maintenance free.

The lid and accessories are all Clip-in designed to take Clipsal Opale Wiring Devices

Applications

CLIC'Line solutions are the natural choice for fast-changing environments, with versatility built into every one of our systems and components.

Our systems can be selected to

blend in unobtrusively or add flair to any style of building. They are simple, quick and inexpensive to install, and a pleasure to live & work with.

CLIC'Line solutions are effective solutions, with an added dimension of character.