Spacial S3X
Stainless-steel wall-mounting enclosures
Wall mounted stainless steel enclosures & accessories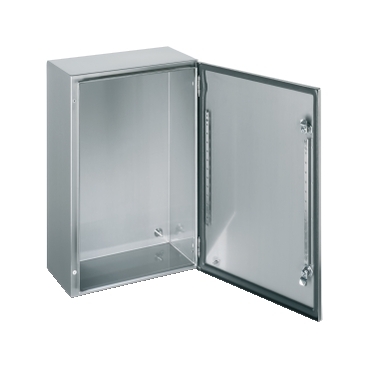 Features

Monobloc stainless steel enclosure, made from a one-piece metal sheet, folded and welded on the corners.

Material: Stainless steel AISI 304L or AISI 316L.
Versions:
- 17 sizes with plain door ( either in AISI 304L and AISI 316L stainless steel )
- 6 sizes with transparent door in AISI 304L stainless steel.

Degrees of protection:
- IP66 ( IEC60529 )
- IK10 - plain door ( IEC62262)
- IK08 - glazed door ( IEC62262 )

Three finishing options:
- Polished Scotch bright®
- Microbeading (on request)
- Painted (on request)

Certifications:
- IEC62208 (Bureau Veritas)
- CUL

Benefits

Enclosures for exposed environments!

A comprehensive offer</em>: Many different standard dimensions, different types of doors, different stainless steel specifications and different finishing.
Watertightness: The front rain gutter avoids ingress of water, oil or other kinds of liquids. It ensures IP66 and protects the interior when the door is open.
Practical and time-saving: Stainless steel wall-fixing brackets. Vertical support perforated rail to allow the mounting of door equipment. Reversible door opening at a 120º angle. It also features four pre-cuts on the back for machining mounting.
Clean and hygienic: The high-quality finishing options are easily cleaned.
Aesthetics: Good aesthetics with plain or glazed door.
Customised versions on request.

Applications

Two different stainless steel specifications:

AISI 304L - Specially recommended for food and beverage applications as well as infrastructure, except in salty environments.
AISI 316L - Specially recommended for environments with high salinity or chlorine content. Marine applications.