CANopen
Machines & installations with
Network for machines & installations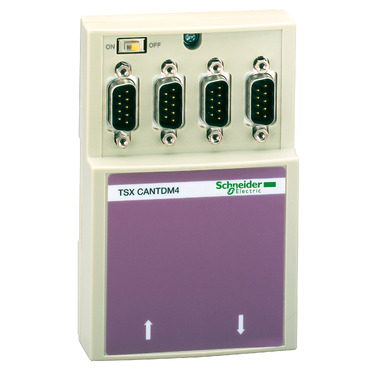 Features

Complete range for machine automation. This range allows you to select the equipment depending on the automation needs.

Controller: Twido, TSX Micro, Modicon Premium, ATV71
I/O: Advantys OTB, STB, FTB, FTM
Motor control: TeSys U
Drives: Altivar 31, 61, 71 family
Motion Lexium and TwinLine family
Sensor: Ositrack and Osicoder

Infrastructure available in IP20 and IP67

Benefits

Performance and flexibility

Schneider Electric has selected CANopen for machines and installations due to its technical features and the resulting benefit of this to the automation world.
CANopen is the best choice for machines and installations, providing the right technical performance and flexibility for machines and installations. It is a real vendor independent network solution that guaranties the best for openness and interoperability of systems and products.

Applications

Compact machines & installations.
Distributed machines & installations.