Linergy Device Feeders
Linergy FM, FH, FV, FC, FT
A complete range of device feeders for connecting the devices all along the rows whatever the enclosure you choose.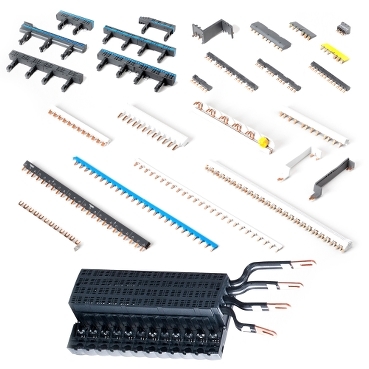 Features

Linergy FM : Total flexibility for outgoers (mixed functions…), easy phases balancing, numerous solution for installation, IPxxB solution, up to 200 A.
Linergy FH : A wide range of comb busbars, to feed all types of modular devices up to 100 A.
Linergy FV : Vertical comb busbars to simplify the headers of row cabling.
Linergy FC : Optimized distribution dedicated to Compact NSX and INS 250 A, up to 800 A.
Linergy FT : Various comb busbar to make your TeSys motor starter simple and compact.



Benefits

Linergy FM

Quick repartition up to 54 connection points
Maximum flexibility to balance your phases
No continual tightening thanks to clamp technology

Linergy FH

All lengths available (up to 1m)
Comb busbars compatible with auxiliaries
Compactness up to 100 A

Linergy FV


Easy to install
Compactness up to 80 A
Feeding headers

Linergy FC


Fast, compact and insulated connection system dedicated to Compact NSX and INS up to 250 A
Solution for 3x4P or 4x3P
Reliable connection

Linergy FT

Straightforward installation
High reliability connection for GV2 and GV3
Up to 63 A

Applications

Designed to be used inside functional and universal switchboards:

Prisma P, PH cubicles up to 4000 A
Spacial SFP cubicles up to 4000 A
Prisma G floor standing and wall mounted enclosures up to 630 A
Prisma Pack enclosures up to 160 A
Spacial enclosures SF, SM…
Isobar enclosures up to 250 A
Disbo Extra enclosures up to 250 A

* When using within Prisma or Spacial SFP , you benefit from IEC 61439-1&2 tested solutions.