Acti 9
Distribution Boards
"Inspiring the S.M.A.R.T. choice!!!"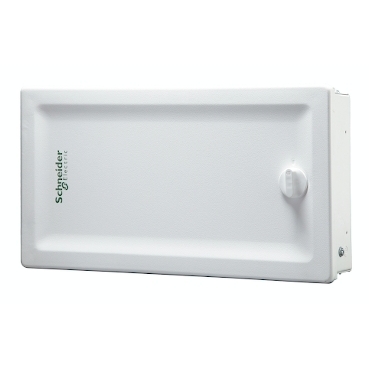 Features

Wide range: SPN, TPN, PPI, Flexi, PSG, VTPN DB (up to 250A MCCB Incomer), Enclosures, P&S Units.
Ingress Protection: Single Door – IP30, Double Door – IP43, Tested and Validated by CPRI
Impact Protection: Single Door – IK08, Double Door – IK09, Tested and Validated by ERDA
Designed and Manufactured as per IS8623
Aesthetically superior DB with unique rounded corners and powder coated with RAL 9003 white color
15% more wiring area
Reversible Door
Enhanced safety with Isolated N-bar, FRLS wire set, Insulated phase busbars, Removed all injurious sharp corners, Plastic stud for CP removal
Revolutionary Gasket: Enhanced IP protection and higher service life over typical traditional gasket
RoHS and REACH Compliance

Benefits

Spectacular Design - Blends seamlessly with interiors
Maximized Wiring Space - Convenient and Safe wiring
Adaptable - Total Flexibility for ease of installation and usage
Robust Architecture - Perfect blend of Strength & WeightTechnically Proven - Safety Guaranteed
Technically Proven - Safety Guaranteed

Applications

It is housing to mount multiple electrical Modular devices (like MCBs, RCCBs, Surge Protection Devices, Change over switch, Isolators, indicating devices etc.) used for distribution, protection , control and automation at final distribution level.