Digital AMP / VLT / FRE
Digital ammeter - voltmeter - frequency metre
DIN rail digital ammeters, voltmeters and frequency meters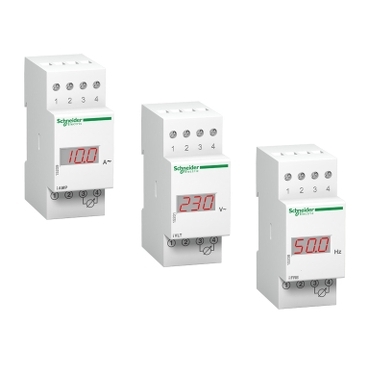 Features

AMP

: 10 A direct current measurement or measurement via external CT

VLT

: 600 V AC direct voltage measurement or measurement via external VT

FRE

: 20 to 100 Hz measurement

Common technical data:

Supply voltage:230 V.
Operating frequency:50/60 Hz.
Display by red LED:3 digits.
Accuracy at full-scale:0.5 % ±1 digit.
Consumption:0.3 VA.
Connection:tunnel terminals for 2.5 mm² cables.

Benefits

Make sure you don't miss anything

PowerLogic, a

complete

range of power metering devices for your installation.

All types of measurements: A, V, Hz, kWh
DIN-rail or flush mounting
Digital or analog display

Ammeters, voltmeters and frequency meters are part of this range.