Compact NS80H MA
80 A moulded case circuit-breakers for motor protection
80 A moulded case circuit-breakers for motor protection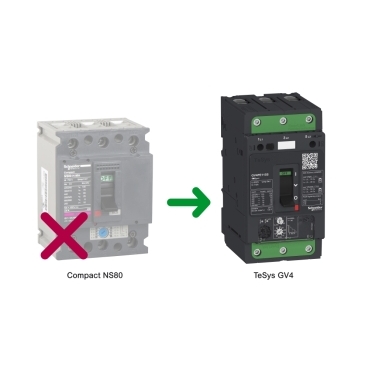 Features

Breaking performance:70 kA at 380/415 V

Installation on mounting plate or DIN rail

Built-in magnetic trip unit

Instantaneous protection adjustable from 6 to 14 In

Indication and control accessories and auxiliaries

Type 2 co-ordination as per IEC 60947-4

Compliance with international standard IEC 60947-2

Benefits

Thanks to its excellent breaking capacity and compact dimensions, the Compact NS80H MA circuit-breaker is specially designed to satisfy specific motor protection needs up to 37 kW. Compact NS80H MA:the guarantee of absolute peace of mind.

Applications

Device dedicated to protection of motors from 0.37 kW to 37 kW.